DPGA launches new nominations portal making it easier for open-source solutions to become digital public goods!
The DPGA believes in the potential of open-source as a catalyst for accelerating the attainment of Sustainable Development Goals. Countless tools exist that can be part of the solutions that policymakers, technologists, and advocates need to harness the power of digital and tackle real-world challenges. When these solutions are listed as digital public goods on the DPG Registry, a trusted source for implementers assessing their options, it increases their discoverability and adoption.
For this reason, we are excited to share the release of a new nomination portal that will improve the process for product owners nominating solutions to become digital public goods.

This is a significant milestone for the DPGA and the DPG community. The DPGA is committed to operating in a transparent and participatory manner that mirrors our commitment to open source. The nomination portal will strengthen interactions between the DPGA's technical team and potential digital public goods and increase the efficiency of the nomination and annual renewal processes, making it a more user-friendly and convenient experience. 

What is the nominations portal?
In order for a solution to be recognised as a digital public good, a nomination must be submitted demonstrating its compliance with the DPG Standard, which our technical team then reviews. The new nomination portal creates a unique profile when a nomination is made, which allows our technical team to interact with applicants, upload documents, and ask questions – all in one place. 

Here are a few reasons we think the DPG community will enjoy the new nomination portal!
Efficiency: Applicants will now receive more centralised touchpoints with the DPGA's technical team throughout the review process. There will no longer be a need to keep track of email chains and attachments. Once submitted, the technical team will be responsive to applicants by commenting directly in the portal and sending notifications once the required information has successfully been received. 
Transparency: Applicants can log into their secure unique accounts at any time. There, they will be able to see the status of their application and what actions may be required. We will keep a public copy of all submissions on GitHub as a backup to ensure that this transparency also translates into actions that strengthen the integrity and security of the review process. Non-personally identifiable information about the nomination and open conversations can be found on GitHub, thus allowing solutions to learn from one another's experience in becoming a digital public good.

An opportunity for learning exchanges: This new portal will make it easier for our technical team to provide support and share insights with applicants – including best practices throughout the application process and examples of what information we require. Similarly, applicants can easily seek clarity when needed by sending questions to our technical team.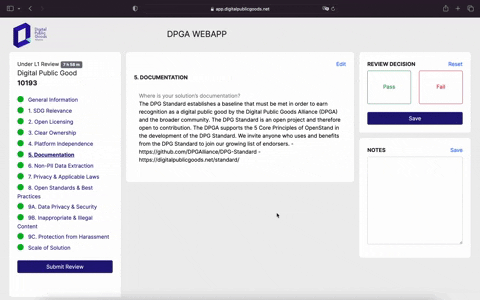 The DPG Registry is only as strong as the digital public goods listed on it. Know of an open-source solution that you think should be included in the DPG Registry? Head on over to the nomination portal and get started today!
Have questions about the nominations portal? Please reach out to Ricardo Miron, Community Manager at the Digital Public Goods Alliance.